According to the latest Global Peace Index, peace in the world has deteriorated for the third year running. Peace has deteriorated for the eleventh time in the last 14 years. This has occurred, in-part, because the fallout from COVID-19 and the escalating security crisis in Ukraine. Despite this decline in peacefulness, one area that has recorded a significant improvement, is terrorism.
Of all the indicators of global peace, terrorism impact recorded the third largest improvement. 86 countries recorded an improvement, while 18 countries recorded deteriorations. This represents a long-term trend in which the total deaths from terrorism have been falling steadily since 2015.
There are several multifaceted reasons why these changes have occurred, and the result is that terrorism is globally at its lowest level in the history of the GPI. This change is represented by several notable global and regional trends.
Geographical Trends
The epicentre of terrorism has shifted out of the Middle East and North Africa, and into South Asia, with countries such as Afghanistan and Pakistan recording poor scores in the terrorism impact indicator. The impact of terrorism has increased in the sub-Saharan African region, especially in the Sahel where armed conflict has become a key driver of terrorist activity.
Terrorism in the Sahel has risen sharply over the last five years and attacks have become more frequent and more deadly. IS and its affiliates have shifted their focus away from the Middle East as the Syrian conflict has subsided and this has been a key driver in the increase in terrorism in the Sahel. Terrorism in the Sahel accounted for 35% of the total of terrorism deaths globally in 2021, an enormous increase from only 1% in 2007.
Ideological Trends
IEP's definition of terrorism suggests that: The act must be aimed at attaining a political, economic, religious or social goal.
IEP groups terrorist organisations and ideologies into three broad categories: political, nationalist/separatist, and religiously motivated terrorism. While all acts of terrorism are inherently political, the major point of difference between the types of terrorism is the goal. For example, far-right terrorism is classified as a form of political terrorism, whereas when the goal or motivation is explicitly religious, the act is defined as religious terror.
Difficulty arises when attempting to delineate between the types of terrorism, as there is a great deal of intersectionality between these categories. However, most terrorist groups have a primary purpose and self-understanding that fits into at least one of these three groups.
Over the past decade, religious terrorism has been the deadliest form of terrorism. Islamist groups or lone actors have been responsible for 528 deaths in the West since 2007, representing 60% of deaths. This reached a peak of 457 deaths in the two years between 2015 and 2017. 2021 recorded the lowest number of attacks and deaths attributed to religious terrorism since 2013.
While religious terrorism has seen a sharp decline, political terrorism has risen steadily over the last decade, particularly in the West, accounting for 73% of attacks. Political terrorism has now overtaken religious terrorism in the West, with religiously motivated attacks declining 82% in 2021. There were 40 politically motivated attacks last year, compared with just three religiously motivated attacks.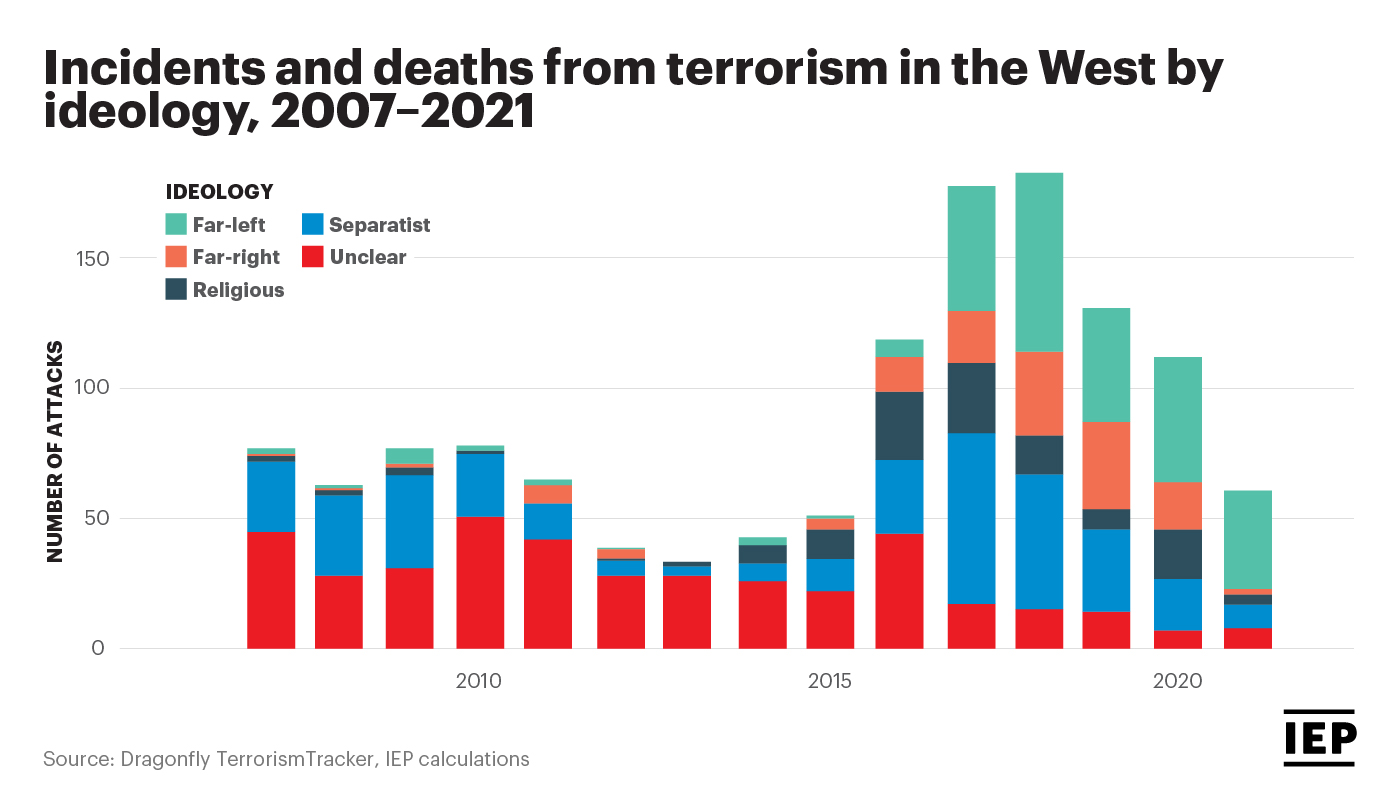 Changing Tactics and Emerging Technologies in Terrorism
Low-cost, easy access and high impact attacks are becoming increasingly prominent tactics undertaken by terrorists. Between 2016-2017, vehicular attacks took place in Barcelona, Berlin, London, New York, Nice, and Stockholm. There have also been several knife attacks in cities around the world and these tactics are extremely difficult to combat.
The growing availability of low-cost drones has also been a revolutionary change. Terrorist groups have increasingly relied on drones for surveillance, bombings, and other activities. ISIL conducted several bombing attacks using drones, targeting both civilian and military targets, even attempting drone attacks on heads of state.
3D printers also have the potential to make what are usually complex and expensive technologies, affordable and accessible for nefarious actors. In one instance, a German terrorist in 2020 was able to spend only $50 to 3D print parts for a gun that was used in an attempted attack in Halle.
Incidents of cyberterrorism have also increased exponentially in recent years and represent another growing area of concern. Cyberterrorism and cyberwarfare has played a key role in the Ukraine conflict thus far and this activity poses a significant threat of spill-over effects.
Looking Forward
The current trends in terrorism suggests the West is unlikely to experience the level of terrorist attacks it did over the last decade. However, increasing political polarisation and a rise in politically motivated terror is a worrying trend and one that should be monitored closely.
The technologies mentioned above represent a fraction of a broad range that terrorist groups aim to operationalise. These technologies have the potential to pose significant problems for nation states and security services going forward, and counter-terrorism tactics will need to adapt to this changing landscape.
Armed conflict continues to be the main driver of terrorist activity and the conflict in Ukraine will likely have a significant impact on terrorist activity within the region. We can expect these impacts to be reflected in the 2023 Global Peace Index.
Despite the global decrease in terrorism, the peace gap continues to widen. Many areas, such as the Sahel, are becoming less secure and experiencing more terrorism than ever before. Sub-Saharan Africa is the world's largest free trade area and contains many of the world's key minerals. There is enormous potential for growth and development, however, the rise in terrorism threatens to undermine this.
Going forward, a multilateral, sustained and comprehensive approach to peacebuilding will likely be the best approach to deal with what is an ever changing, challenging and dynamic threat.